Potidea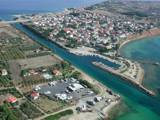 Potidea or Nea Potidea, Kassandra, Chalkidiki (Halkidiki) Nea Potidea is a picturesque settlement located at the entrance of the Kassandra Peninsula in Chalkidiki (Halkidiki), about 60 km from Thessaloniki. It is one of the more popular tourist areas, due to its lovely beaches, clear waters, lush vegetation and many nightlife venues along the beachside.
The charming settlement of Nea Potidea (Nea Moudania) is built at the entrance of the Kassandra Peninsula, next to a canal. It is one of Chalkidiki's liveliest holiday resorts with many hotels, rooms for rent and apartments. Hundreds of visitors come to Nea Potidea to enjoy its splendid natural features such as lush hills, sandy beaches, sparkling blue waters and exciting nightlife.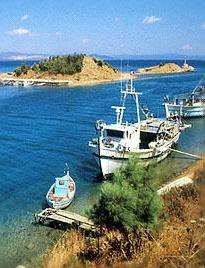 Initially, in the place of Poteidaia was found the ancient city of Flegra or else Pallini. A Corinthian colony with the name Poteidaia was member of the Athenian Alliance since the 7th B.C. In 357 B.C it was destroyed by Philippos, the king of Macedonia, but was rebuilt in the 316 B.C from Kassandros, who gave to the new city the name Kassandreia and opened the channel that secured the entire peninsula. It was conquered by the Romans and the Gotthous and finally it was destroyed by the Ounous in 540 A.D. It was rebuilt by the Byzantine emperor Ioustiniano, who fortified it with a wall parallel to the channel. In 1426 the wall was strengthened by the Venetsianous and in 1821 it was recovered by the local rebels (against the Turks), which defended themselves fortified in it. On 14 November 1821 took place the holocaust of Kassandras. The current village was rebuilt from the refugees of Eastern Thraki in 1822. Today, 1500 residents live in it. The protector Saint of the village is Saint George whose icon was transported from the Platano of Eastern Thraki by the refugees. Other churches: Virgin Mary the Revealed, the graphic small church of Saint Nikolaos, and in a distance of 1,5 km from the village is the Saint Efstathios (1872) monastery of the holy abbey Doheiariou of Mount Athos.