Vavdos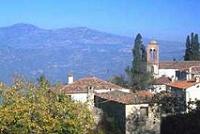 Vavdos is the village with the highest altitude in Chalkidiki.

It is built 938 meters above sea level and it is 52 kilometers from Thessaloniki and 28 kilometers from Polygyros.

Only a few decades ago, it was a traditional mountainous resort.
Its parish church has an early Christian stone monolithic pulpit which indicates that the area was settled in post-Roman times.

Another significant sight is the huge plane tree in the village square, which has been listed as a "Protected Natural Monument" by the Ministry of Agriculture.

Vavdos has a population of approximately 850 year-round residents, most of which work in the mines on the outskirts of the village. Mines in the area include minerals such as Magnesite.

The fair of The Cauldrons of Prophet Helias takes place on July 19-20. After the church mass is over, the fair committee cooks goat with barley-shaped pasta in big cauldrons, which is offered to the visitors along with white wine. There is traditional music and dancing all day long.

You can stay at Hostel Gerakina, located in Vavdos.